Skin in a spin: Winter Skin Survival.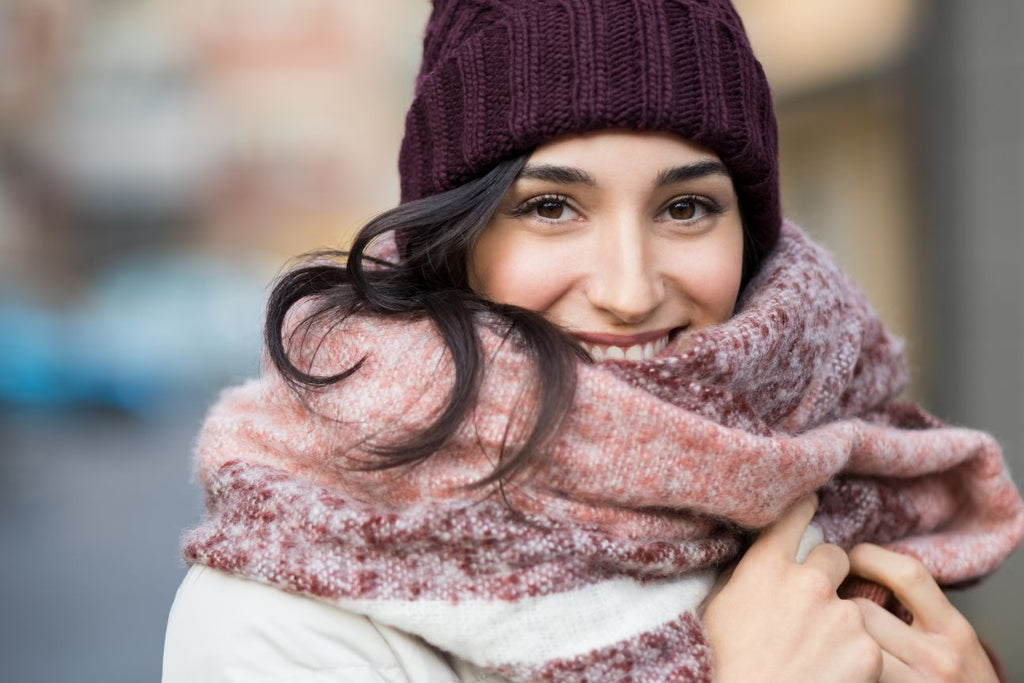 Soft, smooth, dewy, plump skin is not something many of us associate with the Winter months. We tend to reserve those references for the warmer months of Summer.
 We all know only too well, that it doesn't take much to disrupt the balance in our skin. The shift in temperature, biting winds, a lack of humidity in the air, the contrast between a chill outside and a warm, centrally heated home, office or car; can throw skin into a spin.
Caring for skin in Winter can feel like it will require more time and effort, more products…more expense. But there is no need to completely overhaul your routine; a few simple adjustments will help you ensure skin radiance is maintained throughout the chillier months.
 Significant research into the effects of lower temperatures and decreased humidity on skin barrier function, have shown evidence that the epidermis becomes increasingly susceptible to irritation, especially if there is a pre-existing sensitivity.
 Whether prone to reactivity or not, the key to stabilising skin health is tuning into your own skin. Understanding your body's preferences, what works, your lifestyle demands helps accommodate specific necessities, rather than assume that a completely new wardrobe of products is required. 
HYDRATE
One of the most important steps in keeping skin happy in the colder months, is hydration.
Cold weather has less humidity and this can lead to the skin barrier becoming destabilised. This in turn leads to TEWL (trans epidermal water loss) which can leave skin feeling dry, dehydrated…parched, like it's a size too small.
 When the resilience of the skin barrier is compromised – it can lead to redness, sensitivities, reactivity, patchy texture and flakiness.
 One way to help bolster hydration levels from the inside out is to regulate hot drinks like coffee and caffeinated teas, which can act as a diuretic, however mild – it might be worth switching to more hydrating caffeine free leaf teas (rooibos or red-bush tea is naturally caffeine free). This will not only help increase hydration but also boost antioxidant protection, which in turn supports the body to retain the barrier function. We need a minimum of 2L of water a day to maintain the equilibrium of our water-loving bodies, so even when it's chilly, keep topping up through the day, if you can't face cold – try warm water with a slice of lemon to warm the senses and bring clarity to the skin.
 PROTECT
While we are all cosied up in layers to keep warm, we may be forgiven for thinking we are protected and don't need SPF.
 However, UVA wavelengths continue to be a concern for the ageing of the skin throughout the seasons. With the potential dehydration of the skin and compromise to the barrier protection, it is vital to shield from the harmful impact of any exposure to the sun, however chilly!
 UVB triggers Vitamin D production, that's why it is called the 'sunshine vitamin'. It is important to note that as UVB levels tend to drop in Winter, so adding a supplement to your well-being support in the evening for optimal efficacy, will ensure you maintain adequate levels of this vital nutrient whatever the weather, without risking skin health. Vitamin D is vital in the maintenance of strong healthy bones, brain function, heart health and also our immune protection system. Promising clinical research has shown that Vitamin D can help ameliorate reactive skin and improve barrier function.  
 SOOTHE
Winter can be a serious challenge to maintaining unsettled skin. It can be a time of discomfort and misery if your skin is prone to becoming itchy, red and cracked, especially in more exposed areas such as hands.
Layers, as with clothes is the key to comfort, don't overload skin already unsettled with new rich textures that your skin is not used to. Opting for rich ingredients in light, easily absorbed textures that you can augment your skin rituals are optimal.  These will not only soothe and add nourishment to the skin but help build strength to the lipid barrier of the epidermis to lock in hydration.
 If your skin woes become unbearable, it might be worth a consultation to avoid longer term issues.
 AVOID
A long soak in the bath is a gift of self-care. Not only will it help ease the stress of the day and restore your essential you, but it can help reinstate smooth supple skin, soothed from the cold.
 Who doesn't love a restorative bath or shower when you're chilled to the bone? BUT before you fill the bathroom with steam, turn down the temperatures a little to help prevent a shock to your skin barrier.
 REFINE
When skin is challenged by the environment, it is advisable to avoid physical exfoliation with scrubs to avoid intensifying any fragility.
 But as we hide our bodies under layers of clothes, it is easy to forget to keep skin energised which can lead to dry, dull skin with uneven texture. Regular stimulation of sluggish Winter skin helps encourage the fresh cells to surface, refine the appearance of pores and maintain luminosity. Look for exfoliants with AHA or BHA to gently enhance the skin surface.
 DIET
As we reach for the warm, comforting drinks and foods that go with the time of year, it is important to remember that our diet and lifestyle has a significant impact on how our skin transitions through seasons.  
 Alcohol and certain foods can trigger inflammation and cause spikes in dermatological conditions, exacerbating dehydration and susceptibility to skin stress and imbalance.
Ensure balance to help neutralise the 'naughties' with antioxidant rich fruit and vegetables to help counteract the free radicals that lifestyle induced indulgence can trigger.
Unsettled, problematic skin is not inevitable in Winter, nor is the investment of an expensive new regime. Taking simple steps of self-care will help keep skin glowing and healthy whatever the weather!
References:
Low humidity stimulates epidermal DNA synthesis and amplifies the hyperproliferative response to barrier disruption: implication for seasonal exacerbations of inflammatory dermatoses
https://pubmed.ncbi.nlm.nih.gov/9804352/
The effect of environmental humidity and temperature on skin barrier function and dermatitis
https://pubmed.ncbi.nlm.nih.gov/26449379/
Changes in facial moisture distribution and feelings of moisture/dryness among various environmental temperatures and humidities in summer and winter
https://pubmed.ncbi.nlm.nih.gov/32602641/
Effects of vitamin D on mood and sleep in the healthy population: Interpretations from the serotonergic pathway
https://www.sciencedirect.com/science/article/pii/S1087079220301222
Association between Vitamin D Supplementation and Mental Health in Healthy Adults: A Systematic Review
https://www.ncbi.nlm.nih.gov/pmc/articles/PMC8584834/
Vitamin D, the Cutaneous Barrier, Antimicrobial Peptides and Allergies: Is There a Link?