Checking in: Send your skin to Summer rehab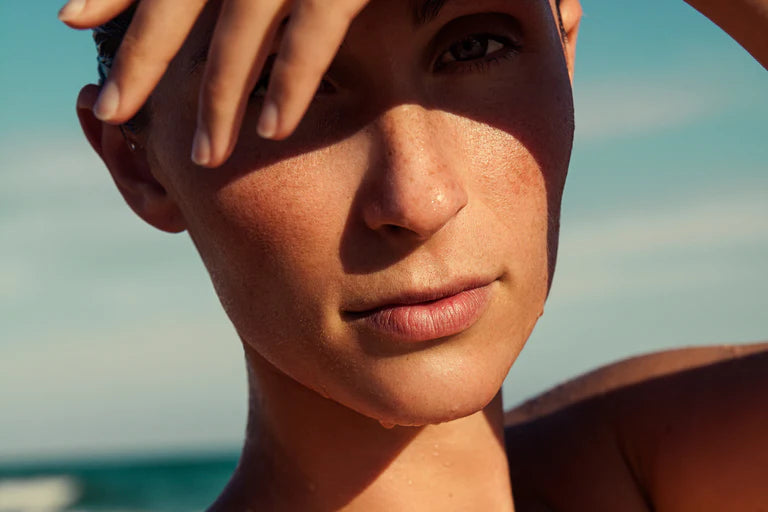 There is no doubt that the warmth of this Summer, the long sunshine-filled days have been welcomed as the world around us feels challenging and grey. Staycation or first overseas holidays for several years, this Summer will live on for some time with us all.
But sunshine and Summer living, after a time, starts to take a toll on the health of your skin. We all feel glowing and fabulous while the sun shines, but a day or two of less than warm, balmy weather and that illusive glow subsides and the tell-tale signs of over-exposure become increasingly evident.
Sunshine, salty sea swims, swimming pools, layers of sun cream and a diet that may be more indulgent in alcohol and sugar can lead to skin feeling dry, dehydrated, congested and compromised. This presents with dullness, uneven skin tone and texture, blocked pores and hyperpigmentation.
 Skin in the glow of Summer can be deceptive. It's often what we can't see that can need unravelling with skin rehab.
So, if our skin feels radiant in sunshine – why is the sun so damaging?
We know we should protect our skin from the sun, but what is UV radiation actually doing?
There are actually 3 types of UV radiation.
UVC - the shortest reach UV, predominantly absorbed by the ozone layer.
UVB – B is for BURN.
Short wave radiation affects the outermost layers of skin. This is where we see visible damage like redness and irritation. The intensity of UVB varies seasonally, hourly and geographically. A significant amount of UVB is absorbed by the ozone layer and blocked by glass, but in the Summer time, we are constantly exposing ourselves to a higher dose of this short wave UV.
UVA – A is for AGEING.
Long wave radiation that can penetrate glass, even on an overcast day. UVA is believed to contribute around 95% of the UV radiation that reaches Earth. UVA damages deeper, beyond the dermis1.
Both UVA and UVB cause cumulative effects over time. Highly reactive free radicals cause oxidative stress, fragility, inflammation and premature signs of photo-ageing e.g. wrinkles, loss of elasticity, uneven skin texture and hyperpigmentation.
Summer is thirsty work for skin.
Dehydration is the enemy of your skin's health.
Water is the key component in all cells and tissues of the human body. Around 60% of an adult body is composed of water.
Surface hydration helps support effective barrier function, preventing trans epidermal water loss (TEWL) and the weakening of defences to external skin stress. Skin becomes compromised, fragile, reactive, red and susceptible to inflammation, premature ageing and other dermatological dysfunctions.
Skin Care SOS.
There is little point spending money on products that promise to rebuild, restore, hydrate your skin – if the skin barrier is compromised. All that goodness will simply be lost. It is important to rejuvenate the skin and take time to establish a ritual of rebalancing and replenishment that will help restore radiant, healthy skin.
Summer skin can feel congested from sweat, sun cream and sebum, this leads to a skin appearing dull, uneven and sluggish cellular turnover.
Slough away surface impurities, purify pores and restore equilibrium by using gentle physical exfoliation and AHA/BHAs that enzymatically break down impurities to enable fresh cells to reach the surface, naturally brightening skin tone and smoothing texture. Our soufflé-like Body Polish glides over skin, and provides both physical buffing of the skin with Bamboo and Pumice to gently, but effectively smooth the surface, while Papaya Extract breaks down the stubborn congestion to allow fresh skin cells to come to the surface, brightening skin tone.
Fresh skin glows, appears plump and functions more effectively.
Hyperpigmentation from UV damage can cause the complexion to appear dull and uneven.
 Our Pure Radiance Facial Oil contains Bakuchiol, a botanical alternative to Retinol, along with Rosehip, Cacay and stabilised Vitamin C, the perfect complex to help revitalise cellular turnover, minimise breakouts from congestion, stimulate collagen and aid the fading of hyperpigmentation to appear more even.
Research suggests that optimising dietary water intake has a positive impact on the physiological health of skin2. So step one, is to ensure you up your intake of water daily – 2 litres is the European guideline – to see improvement externally as well as the biological functionality on the inside.
 To lock in hydration, the epidermal barrier, must be strengthened. Our Firming Body Moisturiser uses enzymatic Papaya to kickstart cellular renewal, even and tone skin texture, along with a botanical complex that stimulates collagen to plump the skin from within and Crowberry extract to protect further degradation. Epidermal protection is replenished with rich moisturising Meadowfoam and Crambe Abyssinica to restore ceramides that help form the "cement" between surface skin cells, fortifying protection. 
Why not treat yourself to our Summer Skin Kit which is currently on offer. The perfect trio of products to establish healthy skin rituals through warm weather and beyond!
The last word. 
Skin health rituals need to adapt to the change of seasons, like a wardrobe of skincare.
A complexion that is unsettled, reactive, uncomfortable, lacking radiance is unhappy, dehydrated and needs some TLC. Simple steps can restore that illusive glow and maintain optimal skin wellbeing with daily rituals of care.
Indulge, live life to the full, enjoy the sun…but take time to replenish what life takes out.
Biological Mechanisms Underlying the Ultraviolet Radiation-Induced Formation of Skin Wrinkling and Sagging I: Reduced Skin Elasticity, Highly Associated with Enhanced Dermal Elastase Activity, Triggers Wrinkling and Sagging - 

https://www.ncbi.nlm.nih.gov/pmc/articles/PMC4425048/